Weight is an important part of your health and wellbeing during pregnancy.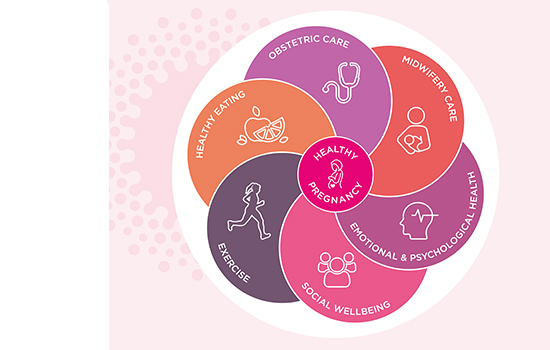 Weight gain during pregnancy
The amount of weight you gain during pregnancy can affect your own health as well as your baby's health and development. But how much should you gain?
The recommended amount of weight gain depends on your pre-pregnancy weight. The recommendations below are a guide only: there are circumstances where a different weight goal may be recommended by your midwife, doctor or dietitian.
Pre-pregnancy BMI
Recommended weight gain over the whole pregnancy
Recommended weight gain per month in the 2nd and 3rd trimester *
BMI less than 18.5
(underweight)
12.5kg to 18kg
2kg to 2.6kg
18.5 to 24.9
(healthy weight)

18.5 to 22.9 if Asian
11.5kg to 16kg
1.5kg to 2.3kg
25 to 29.9
(overweight)

23 to 27.5 if Asian
7kg to 11.5kg
1kg to 1.5kg
30 or more

or over 27.5 if Asian
5kg to 9kg

(less than 7kg if Asian)
0.8kg to 1.2kg
* Average gain in the first three months is 1/2 to 2 kilos for everyone.
Factors that can influence how much weight you gain
How and what you eat
How active you are during your pregnancy and how much exercise you do
Pregnancy related symptoms such as nausea ('morning sickness')
Changes to your appetite, for example food cravings and aversions
Fluid retention, especially in later pregnancy
How to maintain a healthy weight during pregnancy
Eat regular meals with a good variety of foods. This will help you to:

include all the nutrients you and your baby need
regulate your metabolic rate
avoid getting overly hungry and making poor food choices

Make sure to eat three meals a day – breakfast, lunch and dinner. Add mid meal snack if hungry
Check your portion sizes
Think of some foods as 'occasional foods', for example fast foods, potato chips, chocolate, biscuits, cakes, etc.
Limit your intake of sweet drinks such as fruit juice, sports drinks, cordials and soft drinks.
Unless you have complication during your pregnancy participate in regular exercise.
For more information, including tips on food choices and meal planning, download the fact sheet Weight gain during pregnancy
How to monitor your weight gain
Monitoring your weight during pregnancy may help you understand if you are gaining too much or too little weight, and when to seek help if needed. If you would like to track your weight gain over the course of your pregnancy click on the link Weight Gain During Pregnancy below to access the worksheets .
There are four worksheets to choose from based on your pre-pregnancy BMI (body mass index).
BMI less than 18.5
BMI 18.5 to 24 (18.5 to 22.9 if you are Asian)
BMI 25 to 29 (23 to 27.5 if you are Asian)
BMI 30 and above (27.5 and above if you are Asian)
To calculate your BMI, take your pre-pregnancy weight in kilos divided by your height in meters squared. For example; if your pre-pregnancy weight is 72 kg and your height is 162 centimetres (1.62 meters), to work out your BMI, divide your weight by your height then divide again by height, i.e. 72 ÷ 1.62 ÷ 1.62 = 27.
Your BMI is 27, therefore download Weight gain worksheet: BMI 25 to 29
---
---
Disclaimer
The Women's does not accept any liability to any person for the information or advice (or use of such information or advice) which is provided on the Website or incorporated into it by reference. The Women's provide this information on the understanding that all persons accessing it take responsibility for assessing its relevance and accuracy. Women are encouraged to discuss their health needs with a health practitioner. If you have concerns about your health, you should seek advice from your health care provider or if you require urgent care you should go to the nearest Emergency Dept.