Reproductive Services referrals
The Women's provides specialist expertise in the following areas: infertility, endocrine metabolic, polycystic ovarian syndrome (PCOS), fertility preservation, HIV and assisted reproductive therapies, male infertility and infertility counselling.
Referrals for the following reproductive issues will be accepted:
IVF - patients who have been trying to conceive unsuccessfully for more than 6 months
Endocrine / metabolic – endocrine and metabolic disorders such as PCOS
Chronic viral illness (CVI) – discordant couples wanting to conceive
Fertility preservation

Patients about to undergo chemotherapy, radiotherapy or immunology treatment and patients with premature menopause
Patients about to undergo surgical procedures that may render them infertile or effect fertility
Patients at risk of premature menopause through health or family history

Counselling – for IVF patients undergoing treatment.
Referrals for the following will not be accepted:
Reversal of sterilisation procedures - these procedures are no longer performed in the public hospital system. Options for this surgery continue to be available from private providers.
Essential information for referrals
The information listed below is required to appropriately triage your referral, to allocate women to a clinic and contact them. The form can be found at the end of this page. Referrals must contain:
Name
Address
Date of birth
Phone (preferably mobile)
Medicare number (Health insurance details if no Medicare number provided)
GP details – practice address and provider number
Country of Birth
Aboriginal or Torres Strait Islander status
Interpreter and language required
Special needs (e.g. mobility)
Mandatory clinical content
Please provide all relevant history, symptoms, signs, investigation results, medication and management and any reasons that identify your patient as high risk or in need of early hospital assessment.
Please see the Downloads list below for the Reproductive Services Fast Fax referral form.
Urgent referrals
Please check each individual clinic web page.
Public fertility service referral timeframe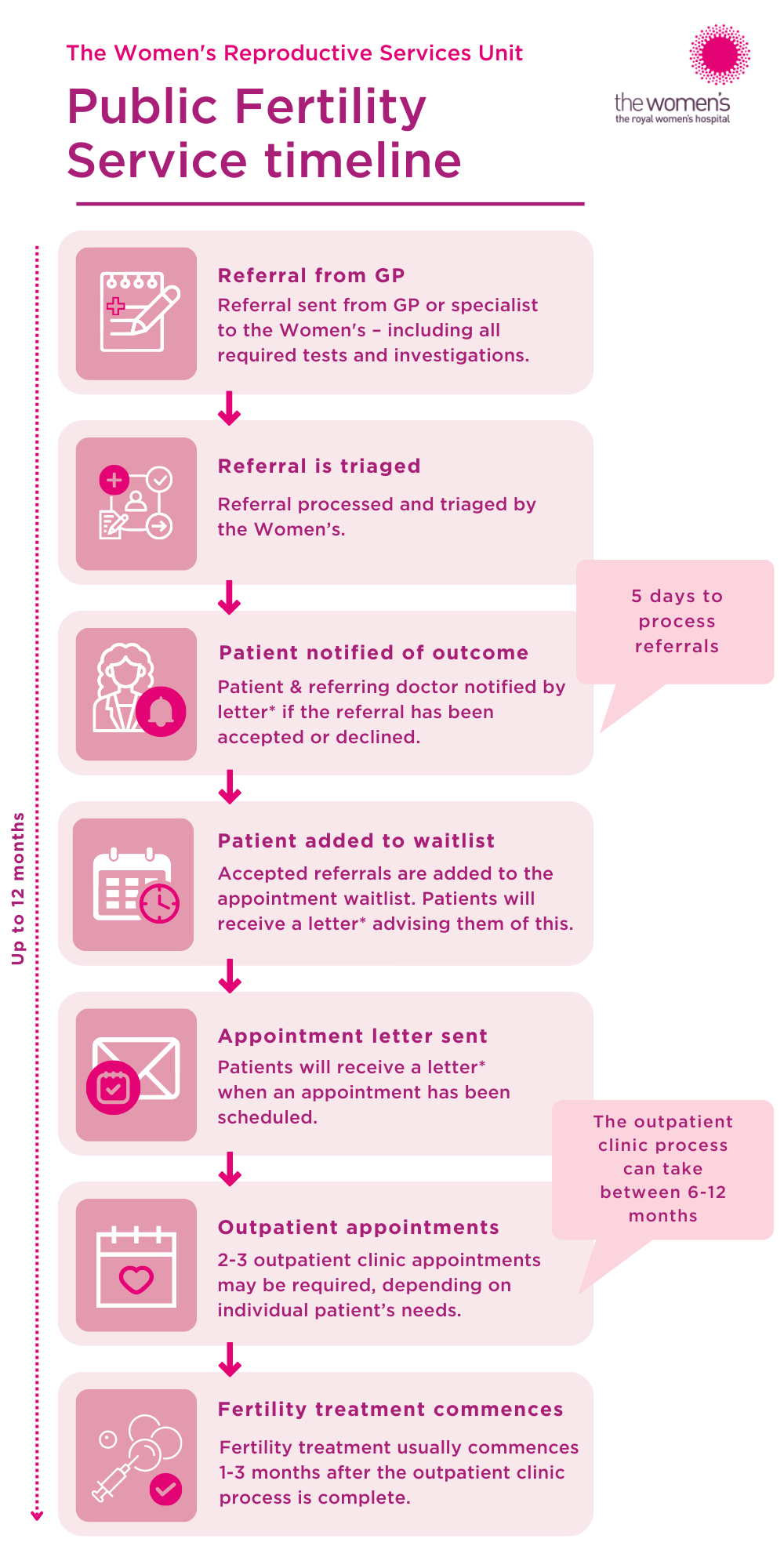 *Digital letter through the Parkville Health Hub, if patient has access. Otherwise will be sent via post.
Downloads and Related Topics
---