Here to help: recognising our volunteers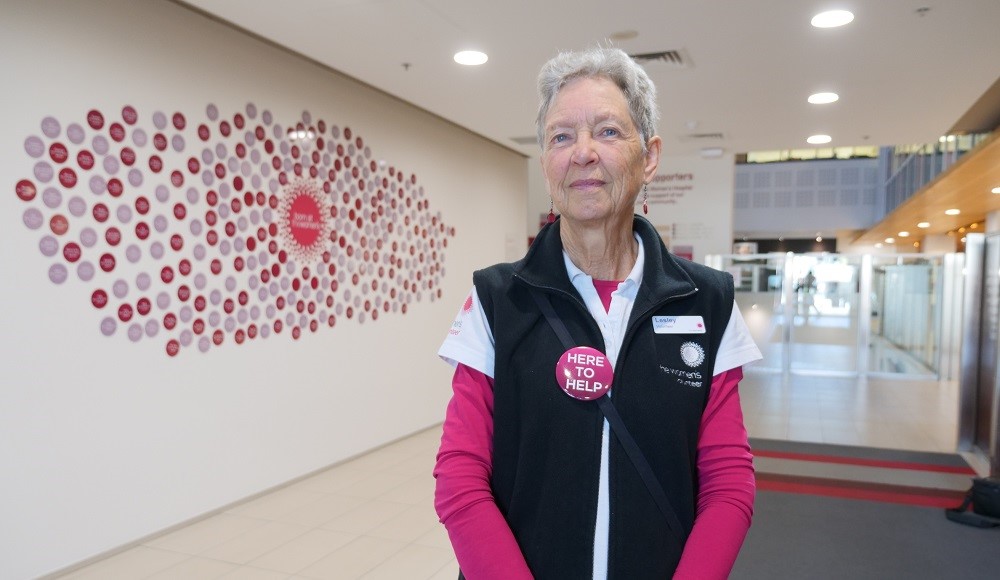 18 May 2022 | Volunteers
This National Volunteer Week we recognise our volunteers who play a crucial role at the Women's. From helping patients find their way, to providing support, compassion and kindness to women, babies and families, our award-winning volunteers are a special part of the Women's community.
Lesley James has had many life-changing experiences during her 12 years of volunteering at the Women's.
There was the baby in the Newborn Intensive Care Unit (NICU) one Christmas who was difficult to settle, but eventually fell asleep after gentle rocking, singing and patting.
Then there was the woman who came in for day surgery at the height of the COVID-19 pandemic. Lesley found her crying in the day surgery waiting room and sat with her. She comforted her and made small talk until the woman was settled and ready to go in for surgery.
Volunteers play an important role
Volunteers are often the first person a patient meets when they come to the hospital. They help people navigate to their appointments, sit with them in waiting rooms or even liaise with family members who may be waiting outside. Volunteers work across the hospital's public and waiting room spaces, as well as in the NICU and other areas.
"Volunteers at the Women's provide companionship, support and kindness. We really care about every single person who comes to the hospital," says Lesley, who is one of more than 80 Women's volunteers.
"Every now and then there's someone you really connect with, and they can be from any age or any background. You might never see them again, but you feel you have made a difference on that shift. Sometimes, if it's a baby, you think, 'I might pass you in the street one day and never know that it was you'. Those daily interactions in the hospital are such a small but powerful thing."
An award-winning program
While most volunteer programs were suspended, in January 2021 volunteers became a crucial part of the hospital's response to COVID-19 through the Guide and Waitroom Support Volunteers program. The program's success was acknowledged earlier this year at Volunteering Victoria's 2021 Volunteering Awards, taking home the COVID-19 Innovation Award.
Lesley has been an integral part of the Guide and Waitroom Support program, which has seen volunteers step in to provide additional support to patients when restrictions meant they were unable to attend the hospital with a support person.
Lesley is teary-eyed when she speaks of the immense privilege of being with women, families and babies at some of the most challenging, joyful and pivotal moments of their lives. She also emphasises that she is just one person in a larger team that works together to make sure all patients they interact with have a positive experience.
"It's really special and we feel privileged to be entrusted with this role that is supporting the hospital and families," Lesley says.
"Volunteering at the Women's is one of the most rewarding things you can do. You really gain more than you give. You gain connection, compassion, care and respect for people."
Additional volunteer programs will be reintroduced gradually as COVID-19 restrictions continue to ease, allowing the Women's to welcome back many more of our committed volunteers.

National Volunteer Week is 16–22 May 2022 and is Australia's largest celebration of volunteers.

Learn more about volunteering at the Women's.