Women's health champions make Honour Roll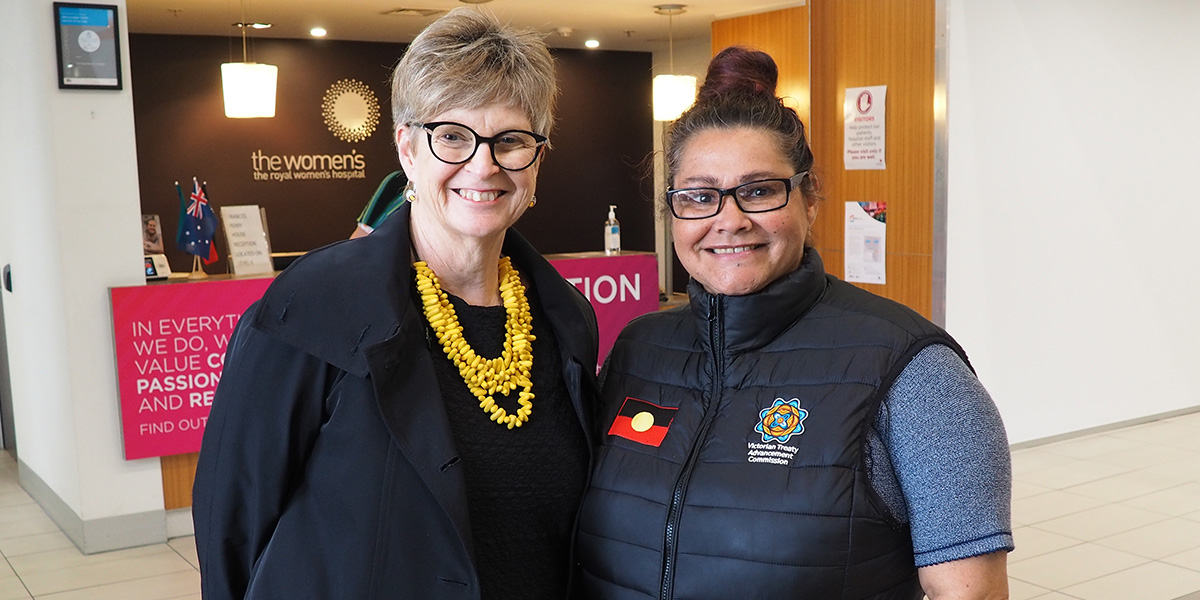 6 March 2020 |
Two of the Women's passionate health reformers – Dr Paddy Moore and Aunty Gina Bundle – have been inducted onto the Victorian Honour Roll of Women.
Dr Moore has been inducted as a Change Maker, recognising her commitment to ensuring all women and girls across Victoria can exercise their reproductive rights.
Aunty Gina has been inducted as a Local Champion, recognising her dedication to improving the health and wellbeing of Aboriginal women, babies and families.
A gynaecologist and obstetrician by training, Dr Moore currently heads up the Early Pregnancy Service and Abortion and Contraception Service at the Women's. In this role she also leads the statewide Clinical Champions project, training clinicians across Victoria to support greater access and availability of abortion and contraceptive services.
With a career spanning more than 30 years, Dr Moore has also been responsible for establishing and running antenatal, postnatal and gynaecological services for women with complex needs including young mothers, women with intellectual and physical disabilities, survivors of sexual assault, and women experiencing drug dependency and psychiatric comorbidity.
"Ensuring women and girls have autonomy over their bodies, and their future, is my life's work and it's an honour to have that work recognised – and to join the long list of inspiring and accomplished women on this Honour Roll," Dr Moore said of the recognition.
Aunty Gina is a proud Yuin/Monaro woman and Program Coordinator of Badjurr-Bulok Wilam at the Women's – meaning 'Home of many women' in the Woiwurrung language of the Wurundjeri Peoples. In her role she supports Aboriginal and Torres Strait Islander women and families as they navigate care and services at the Women's and the wider Parkville medical precinct.
She was instrumental to the implementation of the Baggarrook midwifery program at the Women's, which received the state's top award for improving Aboriginal health at the 2019 Victorian Public Healthcare Awards. Aunty Gina is also a skilled artist, facilitating the Treaty Possum Skin Cloak that ushered in the historic first meeting of the First Peoples' Assembly of Victoria in December 2019.
Aunty Gina has spent almost 40 years working to improve the health of Aboriginal and Torres Strait Islander people and her contributions to her community through both her art and expertise and advocacy in health are vast.
"Supporting women, families, my community – it's a privilege to me. I love my work. I feel a bit shocked and in awe to be included among so many amazing women. I wish my mum and dad were here to see it," Aunty Gina said of the honour. Her parents, Mervyn and Jean Bundle, were founding members of the Moogji Aboriginal Council and active in the East Gippsland community.
CEO of the Women's, Dr Sue Matthews, congratulated the pair on their Honour Roll inductions.
"Aunty Gina and Dr Moore both work tirelessly to improve health access and health outcomes for women and girls. They are so deserving of these honours," Dr Matthews said.
"They are also wonderful examples of the high-achieving professionals we have working at the Women's who day in day out, year in year out, provide a world-class health service for women and girls, including the most vulnerable in our community."
The Victorian Honour Roll of Women was created by the late Hon. Joan Kirner AC, Victoria's only female Premier, to formally acknowledge women for their achievements and to encourage others to follow in their footsteps.
Since 2001, more than 600 women have been honoured for their significant and lasting contribution to Victoria, Australia and beyond. They are recognised for their achievements in a broad range of activities, including science, arts, environment, law, social justice, research, health, media and education.
Dr Moore and Aunty Gina will be formally inducted onto the Honour Roll at a ceremony in Melbourne on 28 May.