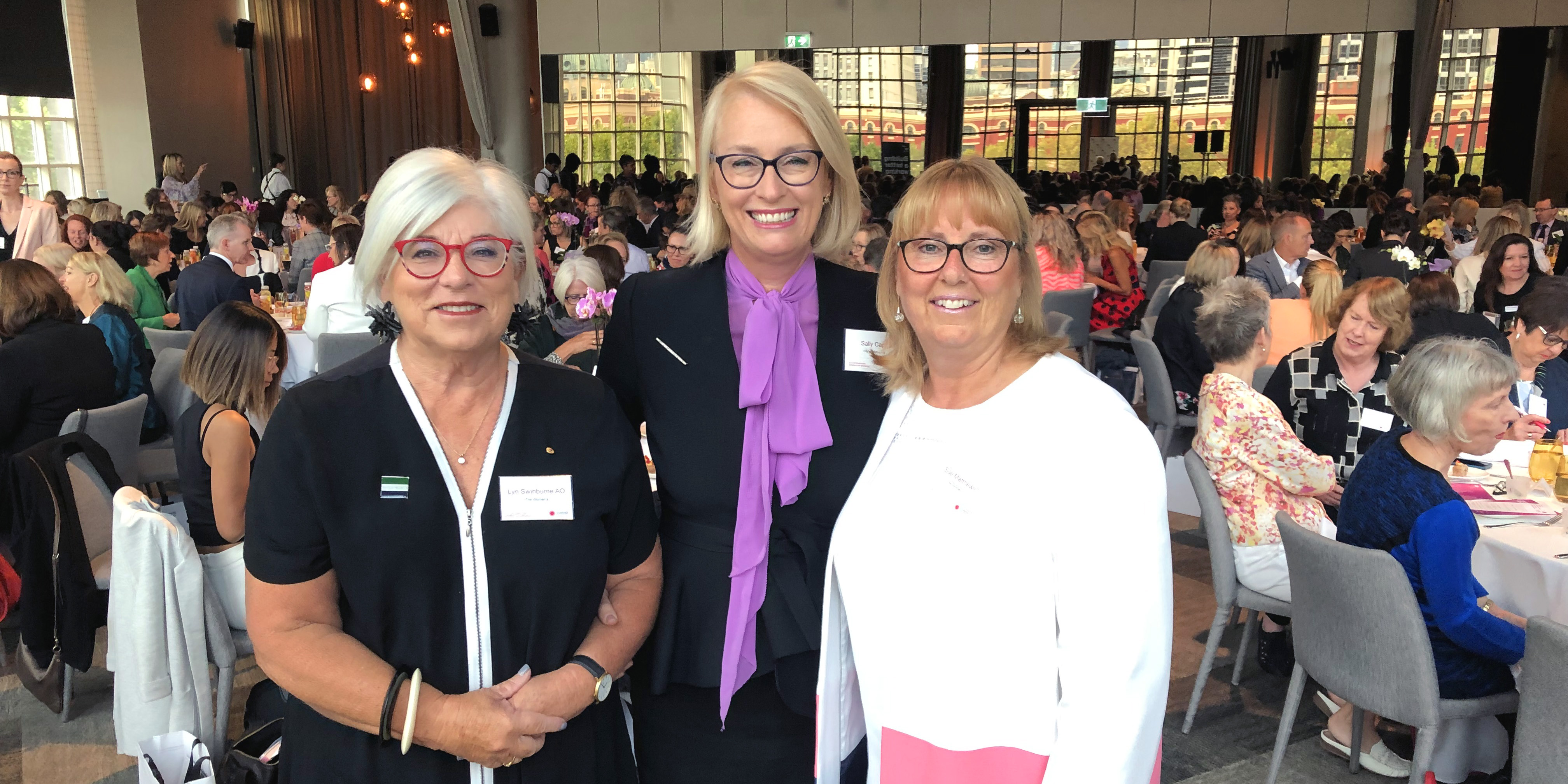 (l-r) Lyn Swinburne AO, Lord Mayor Sally Capp and the Women's CEO Sue Matthews at an International Women's Day event
Lord Mayor of Melbourne Sally Capp and former Melburnian of the Year Lyn Swinburne AO are the Women's Philanthropy Ambassadors.
As our Ambassadors, Sally and Lyn will help the Women's build relationships with generous and visionary philanthropists. This will provide amazing opportunities to create real change and address under-represented and underfunded areas of women's and newborn health.
Ms Capp was appointed to this role in August 2022. See: Lord Mayor appointed as the Women's first Philanthropy Ambassador.
Ms Swinburne was appointed to this role in December 2022. See: Lyn Swinburne AO named the Women's second Philanthropy Ambassador.
About Sally
Sally Capp was re-elected as Lord Mayor of Melbourne in November 2020 after having been first elected in May 2018, and is the first woman to be directly elected as Lord Mayor.
Sally was also the first woman to hold the post of Agent-General for Victoria in the UK, Europe and Israel. She has also served as the CEO for the Committee for Melbourne and COO of the Victorian Chamber of Commerce and Industry.
She is involved in a number of charities, currently sitting on the board of the Olivia Newton-John Cancer Research Institute, the Mary Jane Lewis Scholarship Foundation and the Melbourne University Faculty of Business and Economics.
About Lyn
Lyn Swinburne AO is the founder of Breast Cancer Network Australia (BCNA) and was the 2007 Melburnian of the Year.
Lyn has a significant relationship with the Women's - having served as a Director of the Women's Board from 2013-20 and Chair of the Board from 2015-2022.
She has devoted much of her life to speaking up against the discrimination of women within healthcare and founded BCNA to develop best practice models for patient input, which are now recognised nationally and internationally.