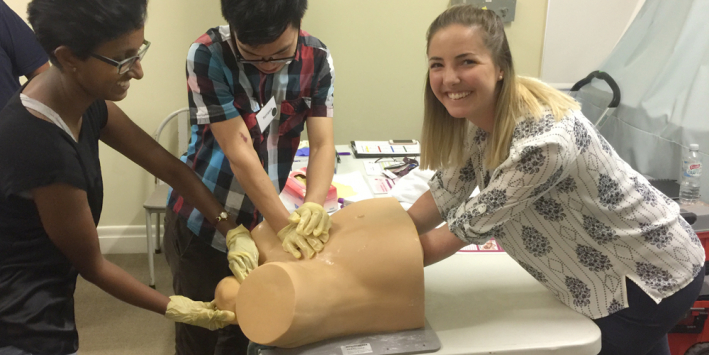 The Maternity Update is a one-day program facilitated by midwifery educators from MSEP in conjunction with expert speakers from The Royal Women's Hospital.
The program covers a range of topics throughout the entire pregnancy, birth and postnatal continuum.
The Maternity Update Program provides updates on the latest information, research, policies and guidelines influencing clinical care across the maternity continuum. Program content has been developed in accordance with latest evidence and in line with the policies, procedures and guidelines of The Royal Women's Hospital.
The program is made up of two core modules,
Victorian Maternity Services – the changing landscape (including trending Regional M&M topics)
Patient Experience – the consumer voice
Both of these core modules have been directly developed in response to recommendations detailed in the Targeting Zero: Patient Safety report (2016).
In addition to the core modules, we have included a small selection of elective modules that reflect evidence-based changes in clinical practice within the current environment of Victorian Maternity Services.
A range of elective modules allow organisations to tailor the program to meet the specific needs of the service.
All modules have a strong focus on managing risk and supporting clinician's to deliver the safest possible care for women and their families.
Elective Modules include:
Antenatal Care

Screening for Infections in Pregnancy
Screening for Fetal Abnormalities

Third stage management/delayed cord clamping
PPH/Tranexamic Acid
Maternity eHandbook

IOL – Cooks catheter/timing
Decreased movements
IUGR/SGA

Victorian Managed Insurance Authority (VMIA)
Safer Care Victoria

Regional Mortality & Morbidity Meetings

Obesity in pregnancy
Documentation
Normal Vaginal Birth
Organisation specific requests: If the available modules do not directly address the need expressed from your maternity service, there are opportunities to develop appropriate content.
Participants are usually midwives, however all maternity clinicians are welcome to attend.
CPD Points and Procedural Grants are available for attending this program. Download the 2018 Maternity Update Program CPD Allocations document below.
Aims of the Maternity Update Program
Inform, update and share latest research, policies and guidelines for all aspects of maternity care.
Explore the current influences on Victorian maternity care and the role of clinical governance for the clinician and healthcare organisation
Tailor workshops to address potential areas of clinical risk within the organisation
2020 Maternity Update Programs
2020 locations of Maternity Update programs in Victoria are shown below. If you would like to schedule a Maternity Update Program or any other programs for your maternity service, please contact the MSEP team for more information.
| | |
| --- | --- |
| Benalla Health | Tues 16th June |
| Kilmore and District Health | Tues 28th July |
Select the following link to the participant feedback and photo gallery.
---