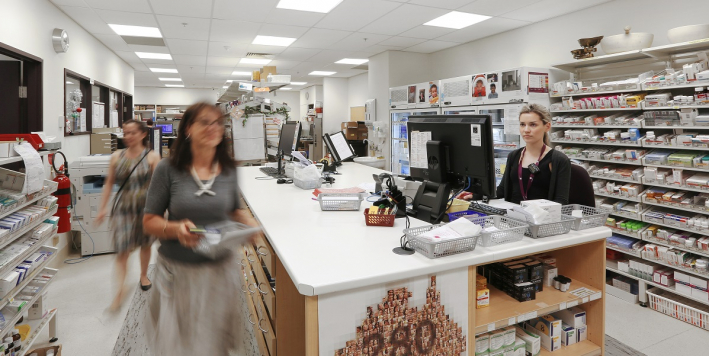 The vision of the Pharmacy Department is to lead in the quality use of medicines in the Women's specialty areas of maternity, gynaecology and the care of newborns.
Pharmacists conduct or participate in clinical research in their quest to provide quality and evidence based practices. The Pharmacy Department supports research involving a therapeutic agent or a pharmacy-related service.
Our goals are:
Improved management with better clinical efficiency
Safer practice
Better health outcomes through interventions
Research projects
Clinical trial support
The pharmacy team participate in and support a large number of clinical trials at the Women's that involve medicines. Our roles in clinical research are varied and includes but not limited to the following:
managing the clinical study materials
allocation of study packs
preparing the randomization for the investigators
monitoring and reporting adverse events to investigators
collecting data and presenting reports based on pharmacists' interventions.
Research themes
Adherence rates of Vitamin D supplementation in breastfed infants – Is this affected by maternal beliefs about vitamin D?Evaluation of whether rates of vitamin D supplementation adherence in infants is affected by maternal beliefs about medicines.
Improving access to quality medicines information to improve patient safety
Identification of how healthcare professionals access the Medicines Information Service, determine the trends in the type of enquiries, and evaluation of the satisfaction with the information provided.
Implementation of dextrose gel in neonatal hypoglycaemia management
The neonatal hypoglycaemia guideline and protocol for using glucose gel in the management of neonatal hypoglycaemia was developed and implemented in the postnatal wards of the Women's. Our research looked at whether the guideline led to better management of neonatal hypoglycaemia and reduced admissions to the NISC unit.
Pregnancy opioid withdrawal scale
Development, implementation and evaluation of the use of a pregnancy opioid withdrawal scale
Changing with the times: transforming a hardcopy medicines information resource to an online databaseEvaluation of the reliability and usability of a new online medicines resource for safety in pregnancy and breastfeeding and identification of areas for improvement.
Concentrated intravenous nutrition solutions improve protein intake in very low birth weight infantsTo determine if increasing the amino acid concentration in IVN solutions improves protein intake and growth in very low birth weight infants.
Using domperidone to increase breast milk supply: a clinical practice survey of Australian neonatal units
Comparison of existing clinical practice guidelines regarding the use of domperidone for increasing breast milk supply within Australian neonatal units.
Comparison of the adverse effects and efficacy of intravenous iron polymaltose versus ferric carboxymaltose – a retrospective cohort studyComparison of the adverse effects and efficacy of intravenous IP infusions with FCM infusions with anaemic gynaecology and obstetrics patients at an Australian metropolitan tertiary hospital.